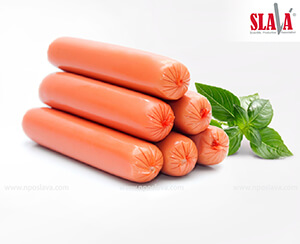 Single-layer, impermeable, polyamide casing for sausages
Caralon is a single-layer non-permeable polyamide Frankfurter casing of enhanced strength and elasticity.
It is meant for the production of Frankfurter thick short sausages and small sausages.
Features and benefits:
minimum weight loss during thermal treatment and storage;
prolonged shelf life of fi nished products (up to 15 days depending on the type of a product and without using secondary packing);
attractive commodity appearance;
steam and gas resistance;
high mechanical strength and elasticity;
microbiological resistance (the casing is inert to the impact of bacteria and mold fungi);
caliber uniformity;
high thermal stability.
Range of products.
The casing is supplied in a shirred form. The caliber is from 17 mm to 34 mm.
| | | | | | | |
| --- | --- | --- | --- | --- | --- | --- |
| | D19 | D22 | D24 | D26 | D32 | D34 |
| Метраж гофрокуклы, м | 25 | 30 | 33.3 | 33.3 | 25 | D25 |
Casing colors.
The casing colors are selected from the catalog, and may be tailor-made.
Forming.
CARALON casing is suitable for use on almost any automatic equipment and syringes-fi llers with a twisting device, as well as manual tying.
Types of casings:
"Type A" – closed end of the shirred stick. For equipment: Handtmann with AL-system and Linker VEMAG LPG;
"Type AA"– closed end of the shirred stick. For equipment: TOWNSEND and ТВС-Mehanika Bumerang;
"Type P" – open end of the shirred stick. For work at syringes with twisting device and manual stuffing;
"Type Y" – knotted end.
Marking services:
design development;
adaptation to printing layouts;
engraving production;
one-side or two-side spirit fl exoprint (number of print colors: from 1 to 6 at each side).